2009
23
22
21
20
19
18
17
16
15
14
13
12
11
10
08
07
06
05
04
03
02
01
00
99
98
97
96
Dec 12

2009
I played for 3 days during the ViP Days X-Mas Edition in Venlo. Every day there was a NLHE freeze out event.
Nov 13

2009
Today I played the €800 NL Holdem FO poker event at the MCOP in Amsterdam. It lasted about an hour. I had K

♠

K

♣

. The flop was 6

♣

8

♥

J

♠

, the turn K

♥

and the river a 5

♥

~ My opponent had 9

♥

T

♥

ugh :-(
Oct 24

2009
I went out as 70th in the Dutch Open 2009 Poker tournament. I'm sure I could have made it to day two as on of the 54 players, but my health didn't allow it. In the morning I was already in great doubt whether to go or not, and several times during the day I wondered what I was doing there.
I had a fever, was noxious, my stomach ached and I could hardly keep my eyes open at the beginning. During the dinner break I even slept for an hour in my car.
So after almost 10 hours I decided to gamble: either I got a big stack and come back the day after or I would go home. I didn't want to make the trip again for maybe an hour of poker.
So with

K

T

I went all-in on a board of

Q

J

2

. The turn was a

T

and the river a

K

but unfortunately my opponent had

A

A

and made a straight.
Here are the extracts of the live report.
Oct 1

2009
Last Sunday, October 4th, I played a satellite for the €1500 MCOP in Amsterdam. The satellite ended nasty when all the money went in on the flop when my

9

T

flopped 2 pair on a

9

T

2

board against my openent's

K

K

. The turn was a

J

but the river was an ugly

2

which meant the end for me. A real shame.

I will definitively participate in the Dutch Open in Rotterdam on October 23th.

PokerCity does a live report of all Holland Casino Series of Poker tournaments. There's a leaderboard on which I'm currently #48.
Sep 27

2009
Last night I ended second in the live forum tournament of Pokercity. The tournament

was held in Amsterdam and it was great fun. On Youtube is a 5 mins movie about the event.
Sep 19

2009
Back from the Euregio Poker Challenge 2009.
Sep 9

2009
I'm playing all events of the Euregio Poker Challenge in Valkenburg. It starts on September 17th with a €100 NLH freeze-out and a day later with a €200 NLH freeze-Out.

Saturday the 19th is day one of the €500 NLH freeze-out main event, and on Sunday there's a €200 NLH bounty.

Maybe I see you there.

Aug 29

2009
The €440 bounty wasn't a success either. I was eliminated after 2 hours of playing. I rivered 2 pair but my opponent a straight.

Aug 28

2009
I was knocked out of the main event quite early. With 9

♦

T

♦

I put the rest of my chips in against A

♥

3

♠

on a board of 4

♥

5

♥

6

♥

T

♠

. I was a 60% favorite but when the A

♠

hit the river I was busted.
Aug 26

2009
I ended 66th in the NLH €110 rebuy of the Summer Classics 2009. Although I was an almost 70% favorite unfortunately my hand K

♣

J

♠

did not held up on a flop of A

♠

K

♦

2

♠

against 5

♠

8

♠

. When I pushed all-in on the flop my opponent felt committed enough to call after which a 4

♠

appeared on the turn.

Aug 23

2009
I ended 16th in the NLH freeze-out €330 of the Summer Classics 2009 and took home €684. Not bad but I sure wished my

A

8

would have won from my opponents

Q

T

. If it would then I would have had a stack of around 40K, and a good change at the final table.
Jul 23

2009
Today, July 26th, I managed to win a ticket for the main event of the Summer Classics in Utrecht so I will definitively participate on August 23rd in the €330 Hold'em, No Limit, FO; on August 26th in the €110 rebuy Hold'em; and on the 28th of August in the main event.
Jul 22

2009
Rob Hartemink has created another YouTube movie with music from my song "Travel" from the "Slices of Time" CD.
You can watch it too on YouTube or download it as an FLV file so you can watch it anytime.
Jul 5

2009
I played poker at the VIP days in Venlo, The Netherlands. Unfortunately without success. The first day I got an early suck-out, and during the second day and the main event I was pretty much card-dead. A little frustrated I decided to go all-in with

A

Q

, only to be called by someone with

A

K

.
May 31

2009
On May 29th 2009 I participated in the main event of the North Sea Poker Classics in Scheveningen, The Netherlands. I ended 5th. That's my best result, and highest cash, in a major event up to now.
Apr 18

2009
On April 11th Ron Boots and I hosted the E-Day 2009 festival. Main act was John Dyson, supporting acts were Gert Emmens and F.D. Project. The festival was held in Theater De Enck in Oirschot, The Netherlands and the day was a big success.
Thomas Broich made a video impression of the day including concert fragments and interviews with Gert Emmens, John Dyson, Ron Boots and more. You can find it at www.music-transformation.de and you can see and hear me around 6:35 in part 1.
Mar 4

2009


On March 6 I was interviewed by Tim van Veen on Radio Ridderkerk. The complete broadcast is available.

Feb 18

2009
A fan of mine, Rob Hartemink, has created a YouTube movie containing a lot of Eire photos. For the background music he choose the track "Eire" from my cd "Slices of Time". I must say that I really like it.

You can watch it too on YouTube or download it as an FLV file so you can watch it anytime.


Jan 25

2009
I had not much luck during the DOM Classics. I participated in the 440 no-limit freeze-out and lost 2 essential hands. vs and s in a 3-way pot against o and o. So I ended somewhere around place 100 in a 218 players field.
2008
23
22
21
20
19
18
17
16
15
14
13
12
11
10
08
07
06
05
04
03
02
01
00
99
98
97
96
Nov 24

2008
I appear (twice, around 1:08 and 1:12) in the promo leader for the 2009 poker 'DOM Classics' championships.
Oct 26

2008
I decided to offer two free downloads for the people that buy my new cd "If One Door Closes" from Groove Unlimited. The first track is an alternate version of the track "The Sun Shines, The World Smiles". It has a complete different beginning. Track 2 is a highly energetic, live version of "Surfacing from Beyond". It was performed by James Clent and me in Essen, Germany on January 26 1998.
Oct 13

2008
I'm the god of hellfire and I bring you...
Who doesn't know these words from the song FIRE of Arthur Brown? Well, yesterday, during our yearly E-Live festival, I met Arthur. A very nice man with still a great voice.

Sep 1

2008
My new cd "If One Door Closes" is finished. The music was already finished but I wanted to add several effects to make the complete cd 'flow' like a total. I'm very content with the end result.
Aug 28

2008
I've participated in the poker tournament SUMMER CLASSICS

in Holland Casino, Utrecht. I didn't end up in the money but I did reach the bubble

once. Courtesy of pokercity.nl there's a short movie about the event in which you can also see me (0:18, 0:38 and 0:42).
Apr 1

2008
Ron Boots, Harold van der Heijden, Henri Peters and I perform live during the E-Day 2008 festival. A short (14secs) poor quality clip is available. Main act was Tangerine Dream. On the photo from left to right: Kees, Henri, Ron.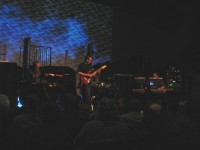 Photo by: Andre Stooker