2019
18
17
16
15
14
13
12
11
10
09
08
07
06
05
04
03
02
01
00
99
98
97
96
Sep 15

2019
4 cashes in 4 events in HC Utrecht. Very nice. Next stop in 2 weeks in HC Leeuwarden.
Aug 27

2019
Last week I was in Barcelona, Spain. I couldn't win a hand in the regular tournaments. Lost three times with KK against AQ/AJ. But in the last tournament I played, a Hyper Turbo, I ended third for Euro 31K :-) Next stop is HC Utrecht in September.
Jun 25

2019
2 final tables in HC Breda, so an excellent result. :-)
May 31

2019
An excellent month so far. I ended first in the 110 rebuy in HC Amsterdam for 4500 euro, and yesterday I became third in the highroller in HC Valkenburg for 3428 euro. Canít play the main there as this is our family weekend.

Most of my updates are on social media these days, especially Twitter. So follow me there if you really want to be informed. My name is @suitkees
Apr 21

2019
I ended 24th in the main event with 20 itm. So nice on paper but no real result. I think I played one hand wrong but in general I was card dead. A real shame as there are little opportunities to get in this situation. Today itís Sunday and the last chance to win something. 13:00 I play a 330 NLH and then itís back home.
Apr 19

2019
Iím in HC Rotterdam this week playing several events. So far I was in the money in the 440 psko with 4 bountyís. No luck in the 550 deepstack and the 980 psko 8-max. Today is the 1590 main event, so wish me luck. :-)
Mar 25

2019
Excellent result in the WPT €890 psko. I was 5th for €3490 with €980 in bountyís. Thursday I will play the main. Now a few days of rest.
Mar 11

2019
I became 26th in the €500 NLHE Deepstack in HC Venlo for €891.
Feb 24

2019
I ended 22nd in the main. I lost KK from 88 in the final hand and won €1572.
Feb 23

2019
I reached day #2 of the main event in HC Scheveningen. 64 players remaining. Letís do it.
Feb 21

2019
Some late updates: I ended unfortunately as 15th in the main event of HC Utrecht. I got it in on the flop 795 with 79 against 66, but the turn was a 6 knocking me out. :-(
It was for a pot of approx. 1,7M which, if I would have won the hand, would certainly get me to the ft the next day. Oh well, that's poker.

For the next 3 days I'm in HC Scheveningen. Tomorrow is the main event. So wish me luck.
Jan 30

2019
No luck in the 450 progressive bounty, but I did reach Day 2 of the 330 fo. Thursday at 18:00 is the final.
Jan 3

2019
The next tournament I will play is in HC Utrecht On January 29. I want to play all events there.
Jan 1

2019
All the best wishes for 2019!!
2018
18
17
16
15
14
13
12
11
10
09
08
07
06
05
04
03
02
01
00
99
98
97
96
Dec 23

2018
I ended as 18th in the main event of the Dutch Open in HC Breda for Ä2692. As always a little disappointing when you get so far but donít make it to the final table. But Iím satisfied. I struggled really hard on day 2 to get into the money. We started day 2 with 59 players and only 19 would get into the money. So, I made it. Next year a new chance. :-)
Dec 10

2018
I just won the main event in HC Venlo. :-)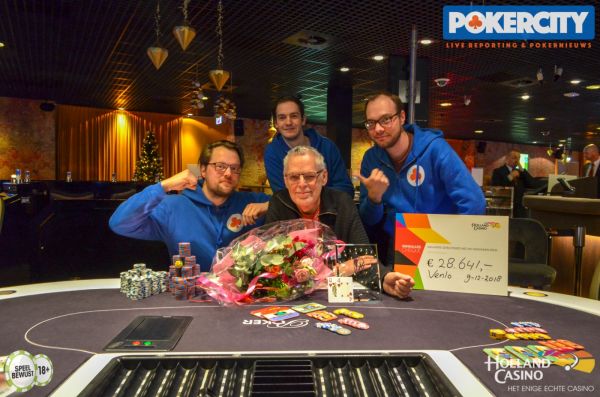 Dec 8

2018
Today I play day 2 of the main event in HC Venlo.
Dec 4

2018
Wow, it's been a long time since I posted something here. Main reason is that I'm a twitter fan, so that's the social medium I use most frequently. Anyway.. recently I played some events during the MCOP, none of which where successful. :-( But this week are the series in HC Venlo, so I will certainly play there. Also this month the Dutch Open, and also there's a Dutch Open Cup with 7 starting days. I will play Leeuwarden on Dec 18th. I you want to follow me on twitter then search for @suitkees
Oct 16

2018
I became second in the Main event of the Leeuwarden Poker Series
We made a deal so I got Ä13000, not bad ;-)
Sep 10

2018
I did some commentary during the WSOP. Here's a link to the Twitch channel of Pokercity. You can hear me after 5:20.
FT of the 550 WSOP Circuit Monsterstack - 2018/08 - WSOP Circuit Rotterdam
Sep 4

2018
I just came back from the WSOP in Rotterdam. I played three events there but no results. Best shot was yesterday in the 440 double stack. I ended as 40 with AJ against KJ, pfai, with a K on the flop. Next event will be the poker series in HC Utrecht at the end of this month.
Aug 13

2018
It has been very hot this summer in the Netherlands. Itís getting cooler now so Iím still in doubt if I will play Barcelona next week. Iím not sure if I like another week of 40 degrees or so. 8-)
Jul 25

2018
Last week I was in Lille, France and became of 18th of 662 players in de PSF Cup for Euro 1390. I lost the final hand with TT against AJ.
Jul 18

2018
No results in HC Venlo, and also no results in the Tuesday weekly in HC Amsterdam. It has a crappy structure but I go with a friend and itís fun to play. :-)
Jul 1

2018
I played the whole week in HC Breda. I reached one day two but that was it. The cash however went very well and made well up for all the tournament fees. :-). Next is HC Venlo but first today the last tournament.
May 22

2018
Coming Saturday I will play the team event in HC Enschede.
May 21

2018
No luck in the bounty in HC Breda, but I ended 6th in the turbo for 180 euro.
Apr 24

2018
My son and I ended 6th in the team event. Enough for the money. :-)
Apr 17

2018
No success in the WPT so far. I did manage to get to day 2 of the 1500 deepstacks, and ended 60th or so. Tomorrow I will play the 660 bounty and Saturday the team event with my son.
Apr 5

2018
I tried twice to enter day #2 for the #RPS. Once in Utrecht and once in Breda. Both without success. For now it's quiet but at the end of next week I will be playing the WPT in Amsterdam. I'm really looking forward to that as last year I ended 5th in the WPT Deep Stacks. :-)
Mar 5

2018
Excellent result in the Ä560 tournament in HC Venlo. I ended second after a deal for Ä10.300. So Iím very happy with this result. Next up is March 21 in Utrecht.
Feb 20

2018
Last weekend I played the team event in HC Scheveningen. It was fun but no result. Next week I will spent in HC Venlo during their Poker Series. I will play everything.
Jan 24

2018
A good poker start for 2018. The first tournament I played was in HC Utrecht, The Netherlands and I became 7th of 170 players in the €560 PSKO event. With €1080 in bounties and a 7th price of €1650 the rest of the week is paid. :-)
Jan 3

2018
I wish everybody the best for 2018. :-)