2023
22
21
20
19
18
17
16
15
14
13
12
11
10
09
08
07
06
05
04
03
02
01
00
99
98
97
96
Nov 18

2023
The MCOP has ended for me. Twice in the money, and a good cash session was enough to make the week profitable. However, to be honest, the target was to make a deep run and collect a 'bordje'. No such luck, so maybe next year. For now I'm gonna focus on moving house in December. Next poker event will be the Dutch Open in January.
Oct 30

2023
Pff, tough week in Holland Casino Breda. I played about every tournament but, beside a 5th place in a tiny side event, got nowhere. In almost every tournament I managed to gather a big stack (5-10x the start stack) but after that I still lost it all. Maybe it's a flaw in my game but I guess I have to think about that some more. The cash games however were excellent. I played 10-10-20 several nights and in the end those results made up for all the tournament cost.
Next up is the MCOP in Amsterdam which starts next Friday. In the meantime I'm busy moving house. Take care.
Sep 22

2023
I became second in the UPS highroller mystery bounty for 14.275 euro. And 13th in a small side event for 673 euro.
Sep 3

2023
Excellent result in Valkenburg. I ended 4th in the main event for 15.051 euro.
Aug 15

2023
No luck in the Amsterdam Poker Series. So not much to tell. 😀
Jun 25

2023
I reached the ft in the EPS with an excellent stack. But unfortunately everything went wrong. I lost with KK from K9. With AQ from 88, and more flips. So I ended 8th. Not bad but not what I had hoped. Next stop? I don't know yet. :-)
May 15

2023
Pff, very bad week in Venlo during the WSOP poker tournaments. In the main it all went well until I got it in on the flop as a 95% favorite. After I lost that pot, nothing succeeded anymore. So let's quickly forget that. ;-)
Next stop is Enschede. A new tournament with new energy. Until then I keep working on the new app, and enjoying life! One of the most important things!
Apr 1

2023
I played 6 tournaments during the WPT in Amsterdam, and got 4x in the money. So 6k+ this week. Excellent.
Jan 30

2023
I was in Namur for the last few days. No result in tournaments nor at the cash tables, so something to forget quickly. :-).
As of tomorrow I play Utrecht. Let's go!
Jan 11

2023
My first big win online! I became third in the DCOP for 21.000 Euro plus an additional 7.500 euro of tournament ticktets. An excellent start of 2023. :-)
2022
22
21
20
19
18
17
16
15
14
13
12
11
10
09
08
07
06
05
04
03
02
01
00
99
98
97
96
Dec 19

2022
I played a lot of tournaments in Breda but with no success at all. Even the cash sessions went bad. For most of the time I was card dead or missing everything on the board. All in all I had a nice time with my wife, the dealers and the staff, but it cost a lot of money. Oh well, better luck next time. For now it's get home and continue work on my new app. Release is planned for the first quarter of 2023. More details will follow then. Merry Christmas!
Dec 3

2022
Only one result during the WSOP in Rotterdam. I was 41 in the main. Next stop is the dutch open in Breda in 10 days. See you there.
Nov 27

2022
19th in the MCOP main event and 2nd in the 585 MCOP turbo for resp. 13422 and 11343 Euro. I call that an excellent result! :-)
As of Thursday I'm in Rotterdam playing the WSOPC. Let's go!
Nov 21

2022
I'm playing a lot of tournaments at the MCOP in Amsterdam. No success so far.
Nov 11

2022
I repaired the jukebox webpage. On that page you can listen or download clippings of music that I made during the years. Have fun! :-)
Oct 27

2022
I'm nominated for the poker hall of fame 2022. If you want to vote then go to the website of Casino Nieuws
Oct 24

2022
Just came home from 5 days in Breda. No prices in any of the tournaments, but the cash games made more than up for that. Next stop is the MCOP in Amsterdam in November.
Sep 4

2022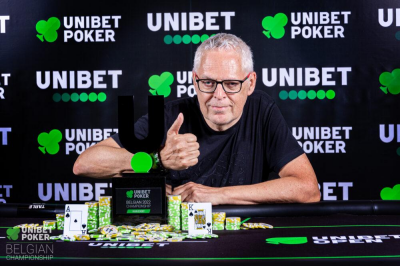 Wow, I won the Unibet Belgium Poker Championship in Blankenberge, Belgium. Of 650 players I became first and won over 55.000 Euro. :-)
Aug 16

2022
No luck with poker in Namur. I played several tournaments but only in the last, and cheapest tournament, I managed to reach the money. It's not a good year for poker so far. Nothing to worry as the same happened to me in 2019. A big loss that year but then the MCOP corrected it all. Let's hope the same happens this year. :-)

Three days ago I became 70 years old. Sounds strange as that's the same age as my father when he died. But nothing to worry about as look more like my mother who's still alive and almost 96 years old.
Jul 13

2022
Nothing special in the Leeuwarden poker series. I ended 14th in the closer event. That result and a good cash session paid for all tournaments. :-)
Jun 18

2022
This week I am in Holland Casino Valkenburg. So far only the cash game has been good. But tonight at 18:00 there's a bounty which I really like to play. So who knows? It's extremely hot in the Netherlands today so this afternoon I'll be spending at the pool. Relaxing…. :-D
May 28

2022
I spent a few days in Venlo for the WSOP. Most of the tournaments I got no playable hands so all in all it was pretty bad. The only result was fifth in a side event. So let's forget this asap. Next Tuesday I get an eyelid correction. My left eyelid is to low so it must be corrected. The following poker event is Valkenburg in early June.
May 11

2022
My new game Marbles Ricochet is finished. At this moment we're preparing the Android versions. IOS is ready. Coming Friday we're deciding about a marketing plan. So it should be available in July. I'll keep you posted here.
Apr 24

2022
No luck in Rotterdam. I played 3 tournaments without any result. Only at the cash table I won some money. Next stop is the WSOP in Venlo.
Apr 21

2022
I ended 5th in the highroller of Namur for 3584 euro. So a cheap week after all. Tomorrow I play the main of Rotterdam.
Apr 3

2022
Two nice results in the WPT Amsterdam. I cashed 2000 euro in the main and 4000 euro in the highroller. All in all it was great to see all the familiar faces again.
Feb 6

2022
I spent the weekend in Casino Namur. No luck (as always) in the tournaments. But the cash games (as always) made up for that. No idea how that works. :-)
Jan 1

2022
Wow. Another year gone. I wish you all the best for 2022! Stay healthy.